Meet the brand new Every Body Moves Lived Experience Advisory Board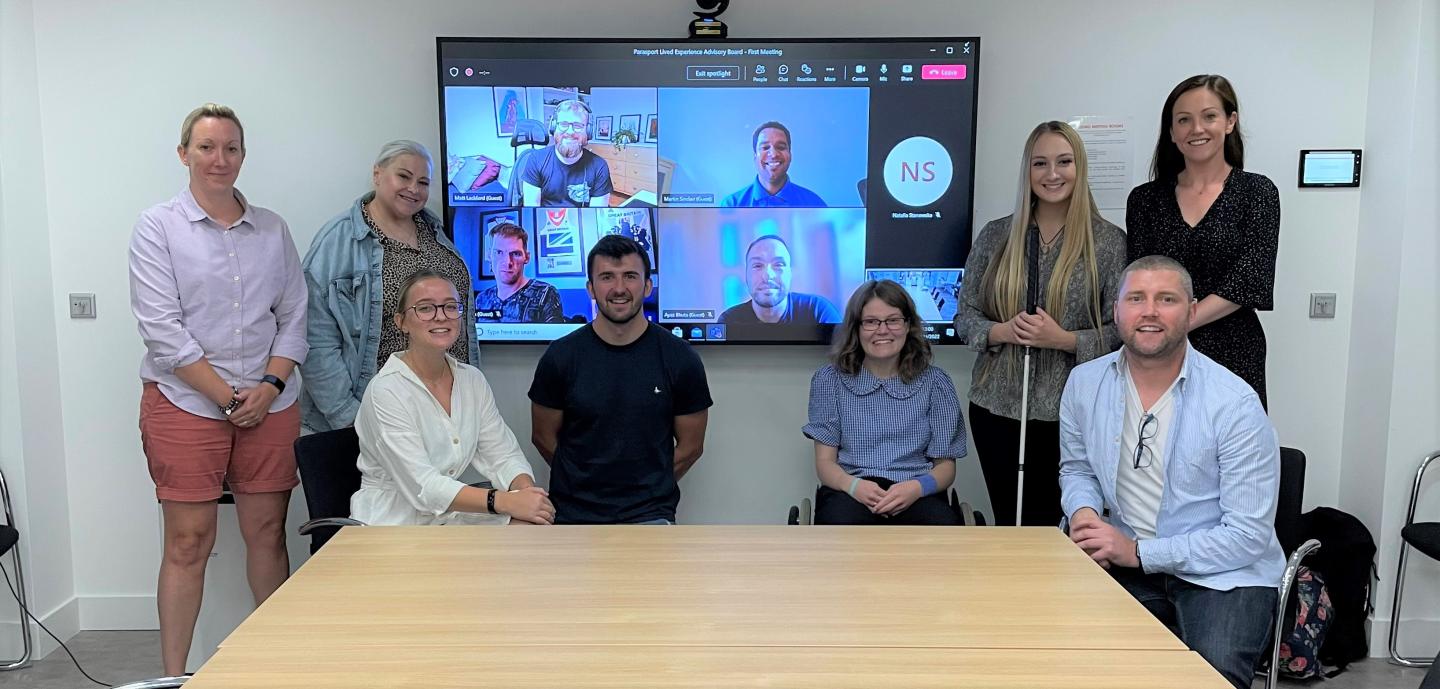 Every Body Moves is pleased to announce the formation of the Every Body Moves Lived Experience Advisory Board. Experts by experience have been recruited from a broad and diverse cross-sector of society to capture a range of opinions, outlooks and experiences. Co-production will be embedded across the programme in an impactful and meaningful way. Every Body Moves will utilise the board members

knowledge, experiences and skills to help shape the direction of the Every Body Moves programme and achieve meaningful change

from a lived experience perspective.
Ayaz Bhuta: Ayaz from Bolton, is a current wheelchair rugby athlete and a gold medallist from the Tokyo 2020 Paralympic Games. He is also a double European Champion and a double Paralympian. As well as being named in the Queen's New Year's Honour's list to receive an MBE, Ayaz has also been awarded an honorary doctorate from his former & local university for his services to sport and the Bolton community.
Ayaz visits schools regularly and has set up his own community company the AB10 Revolution which aims to inspire and educate young people through physical activity workshops, classroom sessions and inspirational assemblies
Ayaz Bhuta MBE was born with Robert's Syndrome, a rare congenital disability that affects the growth of the body and limbs
Coming from a South Asian Muslim background Ayaz is looking forward to serving on the Every Body Moves Lived Experience Advisory Board using his experience to inspire more people with disabilities to participate in sport, especially from his own community.
Callum Deboys: Callum is British Paralympian competing in Para-Nordic skiing, which is split into 2 disciplines, Cross-Country and Biathlon. He grew up in a small village in Scotland called Kirkmichael but now resides in a coastal town called Prestwick. He enjoys cycling, skiing and all things fitness.
He has a left leg above the knee amputation which he acquired in a motorcycle accident in 2017 when he was 21 years old. Before the accident, Callum was working as a pastry chef in a hotel called Trump Turnberry and loved all things cooking. In the following months after the accident, Callum made a big change in his life, stopped working as a chef and pursued the dream of becoming a Paralympian. After learning to walk again, he used sport to help aid his recovery which led him into Biathlon and Cross-Country Skiing. Four years later, Callum debuted at his first Paralympics in the 2022 Beijing Winter Paralympics.
Achieving his goal and first hand witnessing the power of sport not only through physical recovery but also the mental health benefits, Callum looks forward to sharing his journey with the LAB and inspiring people to take up a sport or activity to support their mental health. He is passionate about leading a healthy and active lifestyle and he believes that Paralympics may not be for everyone, but sport and fitness is.
Heather Robinson: Heather is originally from Eccles, Greater Manchester, living with her wife Stacey and two rescue dogs, Max and Millie. Now in her 40's, Heather has always been sport focused and played multiple team games at school. Rugby league has always been her favourite to watch, especially supporting Salford Red Devils. As a teenager, sports opportunities for females were limited in Heather's local area and her focus turned to standard teenage behaviour instead.
At 17, Heather was diagnosed with Ewing's Sarcoma which is a form of cancer, which had been growing on her spine for almost a year and left her with severe damage and paralysis on her right leg. After completing her treatment, Heather started her journey at university where she tried to find a sport that she could participate in, but she found that she was either 'too disabled' or 'not disabled enough'. Like many, she was inspired by the Paralympics but felt that she was too unfit now or coming back to something too late to be accepted or to reach any form of 'good' standard.
In early 2022 Heather came across her local wheelchair rugby league and went along to training, falling in love with the sport in an instant. She now trains weekly with Wigan Warriors and has started managing and coaching the physical and learning disability rugby league teams at Salford Red Devils, an achievement Heather is incredibly proud of.
Heather is looking forward to being a part of the LAB and hopes to inspire more people like her who think they don't fit the box to take part in disability sport. She believes that there is an activity out there for everyone, it's just a matter of finding the right one for you!
Lorna Brooks: Lorna is a single mother living in Pershore, Worcestershire with her two sons.
Lorna has worked in the health and fitness industry since 2007 as a personal trainer and class instructor and more recently as a sports coach for her not-for-profit organisation Freedom Activities CIC. She has experience working within many different populations as a personal trainer and previously also delivered falls prevention courses for elderly clients through GP referrals. Her work within Freedom Activities CIC allows her to offer inclusive sports for both children and adults with and without disabilities. She has also previously been a volunteer as a sports co-ordinator for many years working with adults with learning disabilities.
Lorna's youngest son has a rare inherited metabolic disorder Phenylketonuria (PKU) and ADHD traits. PKU is a lifelong disorder where the amino acid phenylalanine builds up in the body as the enzyme phenylalanine hydroxylase is inefficient. The build-up of phenylalanine is caused by consumption of protein and the artificial sweetener aspartame. Treatment for this disorder is a low protein diet and protein substitute drinks that allow the body to grow whilst also protecting the brain. Due to the nature of this disorder, it is not uncommon for children to experience autism and ADHD too. Life has been challenging for her son not just in social situations, but also at school with his inability to understand academic subjects. Sport however has given her son the chance to excel and build confidence through his ability to play well and connect with others.
Lorna is looking forward to encouraging others to reach their goals to enable participants the ability to enhance their daily lives through the Every Body Moves LAB, as this is something that she is very passionate about.
Martin Sinclair: Martin is a retired England and Paralympian Cerebral Palsy football player, living in Basingstoke. In a distinguished career he represented England 55 times, scoring 26 goals. Sinclair was selected to be a part of the Great Britain team that won a bronze medal at the 2010 Paralympic World Cup and a silver medal at the 2012 event.
Sinclair represented Great Britain at the London Paralympic Games in 2012, which saw him, and his brother Scott make Olympic history by being the first pair of brothers to represent Britain at the Olympics and Paralympics at the same Games.
Sinclair's contribution to disability football has been recognised by the National Football Museum, where he was inducted in to the hall of fame in 2016, as well as being inducted into the CP Sport Hall of Fame in 2019.
Throughout his career and post playing days, Sinclair has been dedicated to improving opportunities for disabled people in and through sport. Most notably, at Saints Foundation, the charity arm of Southampton Football Club where he set up talent programmes supporting players into the FA Disability Football Pathway.
Martin is most looking forward to providing his experience and learning from others to support disabled to become more physically active as part of the Every Body Moves LAB.
Matt Lackford: Matt lives in Halifax and has been working professionally in dance for over ten years, as a facilitator, performer, and choreographer, across the UK. Matt was diagnosed with Chronic Lymphocytic Leukaemia in 2019, an incurable form of blood cancer.
After his diagnosis he was very quick to talk openly about his experience, he wanted to demonstrate what a person living with an incurable cancer can achieve as he was aware of the stigma around cancer through friends and family. He wanted to demonstrate that having a life changing diagnosis does not have to have solely negative consequences.
Much of Matt's current professional career involves working with disabled children and their families, including before his diagnosis. Working for an inclusive dance charity called Flamingo Chicks, who are paving the way in creating a fairer future for disabled children, has been a catalyst in his focus on disability and inclusion. Now that Matt also identifies as disabled, he has been able to draw upon his learning in this field to support himself personally too. He is now sharing his journey of living with Cancer through the charity to act as a role model and mentor for children who may be in a similar situation. Matt believes that this is a very important part of his work now, ensuring his personal experience is used for social change.
Matt also volunteers for Macmillan Cancer Support at his local hospital as a Patient Representative, supporting those who have been newly diagnosed with cancer; offering a safe space to talk about their experience as well as signpost them to support with areas they may need assistance with. Alongside volunteering at the hospital, he is also working with them to offer movement and wellbeing classes supporting those diagnosed with cancer or at the end of their cancer treatment, with a focus on gentle movement to help with mobility, stamina, and confidence.
Matt is looking forward to sharing his experiences of living with a hidden disability and sharing his creative perspective on how to encourage more disabled people to get active across the UK.
Phoebe Gibbons: Phoebe from Oxford has always been incredibly passionate about sport and physical activity, but as a child and into her teenage years she found it difficult to access activities which met her needs, particularly as she became more reliant on her wheelchair. This led her to experiencing a period in her life where she could not engage in sport and physical activity. During this time period she became more passionate than ever to ensure that disabled people have the opportunity to engage in sport and physical activity of their choosing and to recognise that this will look and feel different for each individual. Phoebe believes in creating an inclusive environment and ensuring that everyone feels welcome, and that listening to individuals real lived experience is vitally important in being able to create and inform positive change.
Phoebe enjoys a variety of different activities including helping to coach a football team for children with Cerebral Palsy and other neurological conditions. Football has always played a huge part in Phoebe's life and encouraging the idea that everyone should be able to participate in football in a way which works for them.
Phoebe is most looking forward to challenging people's perspective on disability as part of the Every Body Moves LAB.
Rachael Latham: Rachael currently lives in Bristol and is a former British Paralympic Swimmer; problems at birth left her with limited use of her left arm. She started competing for Great Britain's Paralympic Swim Team at age 15, winning World Championship and World Cup medals throughout her sporting career.
In 2011, Rachael graduated from Sheffield Hallam University with a First-Class Honours Degree in Sports Development.
Since retiring from competitive sport due to injury, Rachael has continued to be a strong advocate for the Paralympic Movement. She has worked on five Paralympic Games as a broadcast journalist and continues to work as an athlete mentor with Sports for Schools and Dame Kelly Holmes Trust, and a Disability Consultant with The Ability People.
Rachael lived on the West Coast of America from 2016-2020, working as a Programming & Strategic Partnerships Manager for non-profit organisation, Adaptive Sports Northwest.
Through the Every Body Moves LAB Rachael's is looking forward to increasing the profile of para sports and change public perception of people with disabilities.
Samantha Gough: Samantha comes from a small village Lasswade on the outskirts of Edinburgh. She is a 19-year-old blind athlete who is passionate and hardworking in all areas of her life. Her goal in life is to bring awareness to the abilities of visually impaired/blind young people so that they can receive the same opportunities as their peers within education and sport.
Samantha shows resilience and determination by overcoming adversity on a daily basis, through her competitive sports such as National Para S11 swimming, TeamGB Goalball and England FA Blind Football.  This is especially shown by her commitment to traveling to England every weekend and training daily for all 3 sports.
Growing up Samantha loved sports and wanted to try everything as her family always encouraged her to do so as she come from a very sporty family. As a child she was running for the school's cross country and was always first to be picked for the school squads and was looked upon as an athlete despite being visually impaired at the time. But as her sight started to deteriorate Samantha started to get bullied and then her school removed her from sport and PE because she wasn't able to catch a ball and needed more support than her classmates, but also because the school didn't have the right sports equipment to support someone with a visual impairment. This is where Samantha's passion for change has come from.
Samantha believes that there is always more to an athlete than sport, she loves expressing herself through art and music, and is obsessed with cats and currently has 10 fur babies, she loves to travel and trying new things.
Through the Every Body Moves LAB Samantha hopes to show that visual impairments don't have to hold you back from getting active.
Stacey Denyer: Stacey Denyer is originally from West Sussex and joined the RAF as a teenager in 2004. Growing up working-class, there was limited opportunities for sport due to cost involved, however she usually fared well at cross country and track events on sports day at school.
Aside from playing in a few Rugby 7s tournaments and dabbling with Netball, Stacey only began competitive sport at the age of 29 when she was coerced into attending RAF Powerlifting's Push & Pull (bench and deadlift) Competition in 2015. Finishing 7 out of 14 with limited training motivated her to train and be selected to represent the RAF. She placed 2nd in a multi-national full power competition whilst deployed to the Middle East and went on to place 3rd in RAF Bench Champs in 2017.
Osteoarthritis in her knee stopped her from being able to squat, deadlift, or run, so in 2018 she started to use the Concept2 Rower for personal rehabilitation, before realising that her times were competitive. 4 years later she has won/placed in a variety of indoor rowing competitions local and worldwide, in both able-bodied and adaptive categories, representing the RAF, Team Oarsome and We Are Invictus. She hopes to be officially assessed as a Para indoor rower this year and aspires to be selected for the Invictus Games Dusseldorf in 2023 for rowing, powerlifting (just bench press) and cycling.
Stacey has her own personal blog about living with Multiple Sclerosis, is the Communications Lead for the RAF Disability & Carers Network and the Manager for the RAF Indoor Rowing Team. Her day job is currently working within the Diversity & Inclusion Team at HQ Air Command. She is married to Ola and has a son, Archie (8). Stacey believes that sport and exercise can fight the problems with obesity, mobility, and mental health, significantly reducing an already high workload on the NHS and unpaid carers.
Stephen Miller MBE: Stephen lives in Cramlington, Northumberland. He is a three-time Paralympic Champion, six-time Paralympic medal winner, keynote motivational speaker, experience and workshop host, writer, charity founder, board member and executive mindset coach.
Born with cerebral palsy, which challenges him every day of his life, Stephen has developed and harnessed a tremendously positive attitude towards life to overcome adversity and thrive. Stephen has represented Great Britain in Paralympic sport for over 25 years.
Stephen was first introduced to the Club Throw event at ten years old at a weekly school sports club. By the age of just 16, Stephen won gold at the 1996 Atlanta Paralympics, becoming Britain's youngest track and field gold medallist.
In total, he's competed in six Paralympic Games, seven World Championships and seven European Championships – winning 34 international medals in his career so far. Stephen won three Paralympic titles in a row at Atlanta 1996, Sydney 2000 and Athens 2004. He held the F32 Club Throw world record for 11 years from 1997 to 2008. He was the Male Athletics Team Captain at the London 2012 Paralympics.
Awarded an MBE in the New Year's honours list in 2016 for services to sport, Stephen has given a lot back to the community. He's an avid visitor to schools, sports clubs, community groups and businesses. Stephen is passionate about inspiring people to help them get the most from life by embracing a positive thinking mindset.
In 2013, he founded SMILE Through Sport, a charitable organisation that combines the services of disability sport development activities with training and education programmes. The charity aims to help more disabled people benefit from taking part in sports and physical activities. In eight years they have engaged thousands of disabled people to take part in sport for the first time.
Throughout his years as a professional athlete, Stephen has come to realise that life is full of adversity, struggle, and challenge. However, it's in these moments when we feel most alive and can have our greatest achievements.
Stephen is now helping other people to overcome adversity and perform well under stress with positive thinking mindset coaching and speaking. Having great success working with business and corporate executives to excel in their professions. He has been speaking for over 20 years, combining his sense of humour with powerful stories and hard-hitting messages that have audiences both inspired and enthralled.
Tania Nadarajah: Tania lives in Surrey. She is a former Paralympic para-archer who competed for Great Britain from 2014 until her retirement from international sport in 2021.  She discovered archery while being a patient at Stoke Mandeville Hospital, the birthplace of the Paralympic movement, after a road traffic accident. Following her discharge, she took up archery more seriously as the inclusive nature of the sport appealed to her.  
However, while attempting to find a local club which could accommodate her needs, she encountered numerous challenges with regards to accessibility and finding a coach with suitable experience to help adapt the sport to her abilities. This was her first experience of the limitations and problems that being disabled can present in a world where catering for anyone who isn't fully able bodied can often be an afterthought.   It was this that inspired her to apply for the Every Body Moves LAB, as Tania is passionate about creating positive change. 
Tania currently runs the marketing and communications programme for an independent charity which helps disabled people to live more independent lives.  She is also a board member for another charity which provides sporting opportunities to people with paralysis.  She hopes to bring skills from these roles, together with a desire to give more disabled people the opportunity to get involved in sport and physical activity, to this board role.  
While on the Every Body Moves LAB, Tania is particularly looking forward to working collaboratively with peers from different backgrounds to challenge perceptions, achieve strategic objectives and change the lives of disabled people for the better through physical activity.